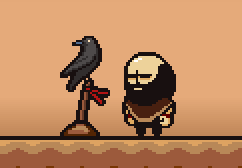 Saving in
LISA: THE PAINFUL
and
LISA: THE JOYFUL
is performed by visiting one of many Save Crows. Interacting with the crow will bring up the save menu and allow the game to be saved.
In Pain Mode during LISA: THE PAINFUL, however, once Brad interacts with a crow and exits the menu, the crow will explode, removing the save point from the game. This can happen even if the game has not been saved inside this menu. This requires planned usage of each Save Crow and risk mitigation of dying before your next save.
Below is a list of all Save Crows:


Ad blocker interference detected!
Wikia is a free-to-use site that makes money from advertising. We have a modified experience for viewers using ad blockers

Wikia is not accessible if you've made further modifications. Remove the custom ad blocker rule(s) and the page will load as expected.