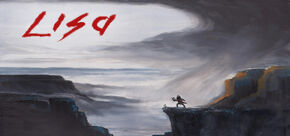 LISA: THE PAINFUL
, alternatively "Lisa: The Painful RPG" or simply "LISA", is a sequel to the
Yume-Nikki
style exploration game,
Lisa The First.
It is the journey of
Brad Armstrong
, attempting to save his adopted daughter,
Buddy
, the last female in
Olathe
after being kidnapped.
It can be purchased from Steam.

The story is loosely based on the 1992 novel
The Children of Men
Ad blocker interference detected!
Wikia is a free-to-use site that makes money from advertising. We have a modified experience for viewers using ad blockers

Wikia is not accessible if you've made further modifications. Remove the custom ad blocker rule(s) and the page will load as expected.