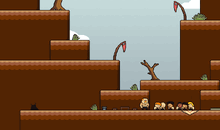 The Orphanage is a minor side area in Lisa The Painful, located in the upper-rightmost cave in the Area 1 Crossroads. As Brad exits the passageway into The Orphanage, he sees a small crowd of children being supervised by Morrace Dinkel.
Morrace explains to Brad what the purpose of him being there is, while the children begin to play with matches. The man asks Brad to grab a bucket of water, located right next to them. Brad grabs it, splashing the children with what is actually gasoline, setting the crowd ablaze. Morrace then tells Brad he meant the other bucket, located on top of a large hill overlooking the Orphanage.
Regardless of how long it takes Brad to grab the bucket, by the time he returns the children will be burned to ashes.
If Brad tries to head straight for the real bucket of water, Morrace will stop him in his tracks and say "Dude, could you get me some water?".
Morrace is actually the one who was supposed to receive the Bulldozing Diploma that was mentioned in Horrace's flashback.
Ad blocker interference detected!
Wikia is a free-to-use site that makes money from advertising. We have a modified experience for viewers using ad blockers

Wikia is not accessible if you've made further modifications. Remove the custom ad blocker rule(s) and the page will load as expected.