Mad Dog

A boring man. It's hard to tell what he's capable of. He sure can take a hit though.
Party Member
Full Name
Mad Dog
Nickname
Mad Dog
Class
Barbarian
Gameplay
Equip Types
Weapon Types
Club
Armor Types
Accessory / Manly / Hat / Small Shield
Skill Types
Skills
Traits
Target Rate
200%
Evasion
5%
Hit Rate
95%
Crit Chance
4%
Features
"Hi. I'm Mad Dog. That spiked club you have belongs to me. May I have it back?"
―Mad Dog
Mad Dog is a character met in the Factory Town, near the bottom left. He does not speak much and it is not known how he earned his name or why his nipple has been removed.
Background
Edit
Name: Mad Dog
Fighting Art: Pure Violence
Past Occupation ???
Likes: Strong People
Favorite Food: Instant Noodles
Most Hated Thing: His Sons
It's hard to say what goes through this beady eyed man's head. He's known to be very strict on his two children. Rumor has it that Mad Dog killed his son, Mad Dog Jr. The reason being? Jr. wasn't worthy enough of passing on the Mad Dog name.
Appearance and Personality
Edit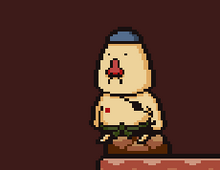 Mad Dog is a big looking man wearing a hat and a Nipple Patch due to his Nipple being removed. Other than asking for his club back, he does not speak much other than mentioning missing his son during his end of combat dialogue.
How to Invite to Party
Edit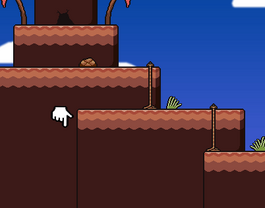 In order to invite Mad Dog to Brad's party, you must obtain his Spiked Club. This is found by jumping down a ledge in the Factory Road, just before the Factory Club.
WARNING: THIS WILL TAKE 500 HP FROM BRAD'S PARTY. BE SURE TO BE ABOVE THIS AMOUNT BEFORE JUMPING.
After jumping, enter the cave to the left and climb up the rope to retrieve it from a corpse.
The man in which you grab the club from is Mad Dog's son as he bears a "M.D. Jr" tattoo.
Alternatively, you can also give him the Spiked Club you found during the Area 1/2 Transition scene with Rick.
Mad Dog is a strong party member who can be recruited as early as area 1. Mad Dog always deals powerful damage, and his Nail Comb skill can be quite nasty on enemies. Additionally his strongest attack Hellball unleashes a gigantic fireball at an enemy and deals massive damage in addition to a high chance of burning.
Mad Dog can also use a skill called Taunt, which is targeted at every enemy on the screen. This also comes as his main drawback because every single taunted enemy will be more attracted to attacking him than anyone else on your team, which could lead to him getting KO'ed instantly if not used carefully. The benefit to using this though is that his TP gauge fills by a good chunk for every enemy he's taunted; if there are 3 or more enemies on the screen Mad Dog's TP is almost guaranteed to be maxed out in a single turn.
Skill Name
Description
Level Learned
TP

Cost

Fireball
A strong emotional blast.
5
10
Nail Comb
Drag the nails of your club across the face of your opponent.
10
20
Taunt
Cry out to gather TP and attract attention.
5
5
Big Fireball
A strong emotional blast.
16
20
Nail Rake
Drag the nails of your club across the face of your opponent.
20
30
Hellball
A strong emotional blast.
25
40
Statistics
Edit
Core Statistics
Level
HP
SP
ATK
DEF
SATK
SDEF
AGI
LUCK
10
1242
143
34
39
32
38
37
55
Battle Quotes
Edit
Win Quotes

Edit

Level Quotes

Edit

Drop Quotes

Edit
Default Equipment
Edit
Mad Dog lost his nipple fighting his children. [1]
References
Edit
Ad blocker interference detected!
Wikia is a free-to-use site that makes money from advertising. We have a modified experience for viewers using ad blockers

Wikia is not accessible if you've made further modifications. Remove the custom ad blocker rule(s) and the page will load as expected.